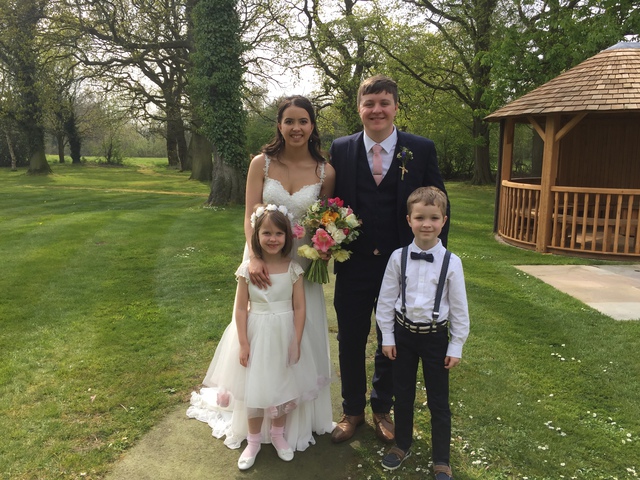 This is more or less what I said in my 'mother of the bride speech' at Kendra and Adam's wedding.
[Greetings]
I get to do this speech because I was lucky enough to have Kendra to myself for the first 4 years of her life.
Having Kendra was the most life changing event of my life. There have been many other big events, but nothing quite matches becoming a mother for the first time.
Kendra was a good starter kid. Like learning to parent with stabilisers.
Kendra has always been eager to teach others what she knows, and was never impressed with my social skills. At the age of three we sat together at the breakfast table and she said to me, "Hi, how are you?"
I answered, "Well, I am a bit tired." "No," Kendra admonished, "'I'm fine thank you, how are you?'"
And then she went on…
"So, how was your day?"
"Kendra, it's morning."
"So, how was your weekend?"
It didn't stop there. Over the years, she has also instructed me on eye contact, clothing, makeup… So I've learned something from Kendra. I hope she's also learned something from me. I may not be the person to come to for marriage advice, but when it comes to parenting, we're sorted.
I have no involved family myself, and I really wanted Kendra to have family. That's what led, after a fashion, to finding Ian and moving to the UK to be with him.
I needn't have worried about finding family for Kendra. Turns out, she was quite capable of doing that for herself. Kendra collects families.
When we first arrived in the UK, 4 year old Kendra had run out of patience and burst into tears shortly before the end of our 24 hour journey. Ian and his dad, Richard, had come to get us from Heathrow. As we drove to Crewe in their rattly old Landrover, Kendra quickly fell asleep leaning against Richard.
That's all it took to get her a grandfather for life. The rest of the family quickly followed suit. Even when Ian and I ultimately divorced, the Moltons sort of failed to divorce us.
But one family wasn't enough for Kendra. In high school she became best friends with Amy. It wasn't long before she was an honorary Bedford and I had to start negotiating for visitation rights during the holidays.
Two families ought to be enough for anyone, but I guess Kendra feels about families like I do about children. Hopefully she'll stop short of 5!
It's not just Adam who loves Kendra. It's clearly his whole family. Kendra and Adam are only half joking when they say she's his parents' favourite.
There are down sides to having three families. When we came to visit the wedding venue and dress shops she didn't just bring me, she had a whole entourage. She'd ring up to make an appointment and they'd ask if anyone was coming with her.
"Yes, 5 people."
"FIVE!?"
"Yes, three mothers, a future sister-in-law and a best friend."
It was standing room only in the wedding boutique.
And now I have three families to negotiate with for coveted Kendra visits.
So, Kendra clearly fits in with the Hills. How does Adam fit with us? I was surprised that Kendra had fallen for a geeky guy. Kendra explained it to me "Most women end up with men like their fathers, but in the absence of a father, I seem to have got one like you lot."
Kendra and Adam have different interests. One of Kendra's is all things Disney. When we went to Disneyland, I thought Adam was just coming along because Kendra wanted him to, but it was soon clear that Kendra's joy is Adam's joy.
And now I know if I want to see them I just have to say I have a new Lego set to put together. You know you're one of us when you get a Christmas stocking and matching pyjamas. Adam, welcome to the family.
Thank you, Kendra, for changing me, teaching me, and giving me some of the most sincere compliments I've ever received.
And to you, Adam, for always being kind, tolerant and eager to care for my daughter. She couldn't have picked a better man.
And thank you to all of you, Moltons, Bedfords and Hills for providing Kendra - and me - with far more family than I ever could have hoped for.
Kendra and Adam, may the future bring you happiness, wisdom, and children so I can be a grandmother! But seriously, I give you my wholehearted blessing for a life full of health and happiness.
[Toast]